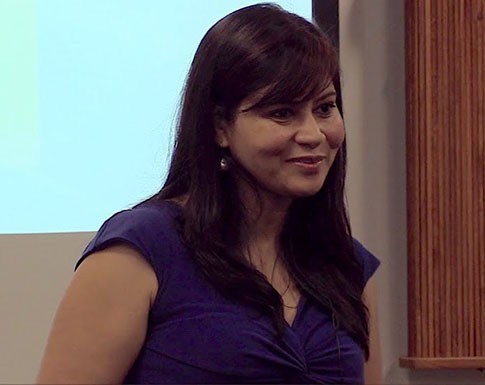 Dr. Sarkar joined the faculty of the Department of Electrical and Computer Engineering in San Diego State University in 2006. Her M.S and Ph.D. degrees were completed at the University of California, San Diego (UCSD) in 2003 and 2005 respectively under the guidance of Dr. Rene Cruz. She recieved her B.S. degree in Computer Science & Engineering (Summa Cum Laude) in May 2000 from San Diego State University. She has worked previously as a research scientist at SPAWAR Systems Center, Point Loma, San Diego,CA and at Sun Microsystems. Her complete resume can be found here.
Her research interest lies in the area of Wireless Data Networks. Dr. Sarkar is the Director of the Wireless Networks Research Group (WNRG) . She has been instrumental in setting up the NSF funded Wireless Multimedia Communication and Networks Laboratory (WMNC) in her department.
Dr.Sarkar is a recipient of the "President's Leadership Award for Faculty Excellence" for the year 2010.
Within the domain of wireless networks her work addresses issues like scheduling, routing and optimal resource allocation schemes. She also investigates MAC layer power management algorithms and Quality-of-Service issues and protocols in WLANs, WMANs, WBANs, sensor networks, and wireless ad-hoc networks.
Some of Dr.Sarkar's current research foci are:
• Wireless Health.
• Cloud Computing.
• Re-defining socialization-the digital way.
• Optimizing energy-delay trade-offs in wireless networks.
• Hierarchical Heterogeneous Networks - peaceful coexistance of Micro, Fento and Macro cells.
• MAC layer channel scheduling schemes for dynamic specturm allocation (Multi-channel issues).