AmCham Members Explore Innovative Resources and Strengthen Collaborations During Visit to STEM Building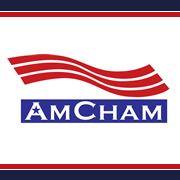 On October 16, 2023, members of the American Chamber of Commerce (AmCham) embarked on an enlightening journey as they explored the groundbreaking four-story STEM building -resulting from the collective efforts of Ilia State University, San Diego State University, and the Millennium Challenge Account – Georgia. This visit underscored the enduring partnership between Georgia and the United States in promoting educational development and fostering innovative advancements.
AmCham's President, Irakli Baidashvili, delivered an inspirational opening speech, emphasizing the profound significance of advancements in education and investments in the field. He highlighted the incredible opportunities this collaboration provides to students, granting them access to state-of-the-art resources, including Smart Classrooms, Electrical and Computer
Engineering Labs, Geotechnical Teaching Labs, Structural Teaching Labs, the Fog Room, Senior Design Lab, Hydraulics Lab, and more. During their visit, AmCham members engaged in meaningful discussions with prominent figures, including SDSU-G Emeritus Dean Dr. Halil Guven, Global Campus Dean Ian Gibson, J.D., the host institution's Rector, Professor Nino Doborjginidze, and ISU faculty members.
This visit epitomizes our unwavering commitment to our partnership with AmCham, the largest international business chamber in Georgia, boasting over 240 members dedicated to strengthening U.S.-Georgia ties and enhancing Georgia's business landscape. We express our sincere gratitude to President Baidashvili and AmCham staff and members for visiting ISU STEM building. Such visits play a pivotal role in elevating sector awareness and fostering meaningful cooperation.

For media inquiries and further information, please contact [email protected]