SDSU Georgia Students Take First Place at ISU Educational Games Hackathon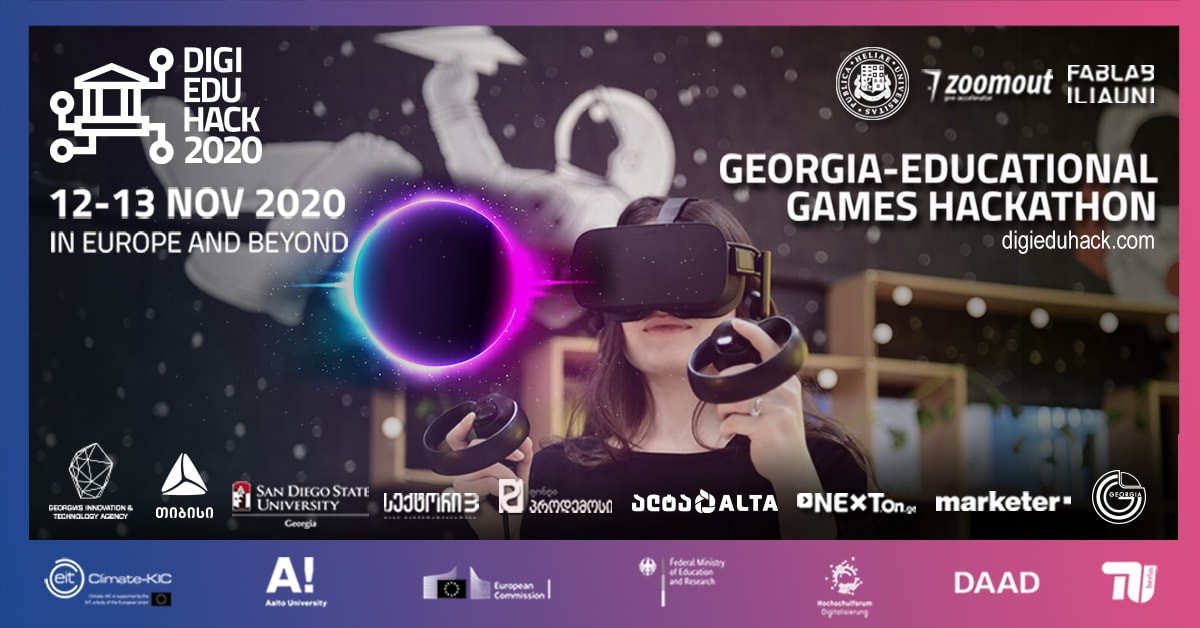 On November 12-13, 2020, Ilia State University hosted the online Education Games Hackathon in collaboration with the international project DigiEduHack, an initiative of the European Institute for Innovation and Technology.
The event was open to participants worldwide and occurred virtually over two days. Participants were invited to create prototypes for educational games and "demonstrate how digital tools…can enhance community involvement in the field [of education]."
SDSU Georgia's Giga Gotsiridze acted as one of the judges for the competition. He believes that hackathons are an essential part of educating students in a real-world environment, stating, "Hackathons are the backbone for developing and preparing younger generations to solve real-life problems in the future so that they can become entrepreneurs one day. By becoming successful entrepreneurs, not only will they achieve financial success, but they will strive to make the world a better place by creating more eco-friendly technologies, gadgets, and the innovations that will shape our future."
Of the 22 teams who competed, one team was selected as the overall winner, which will go on to present their idea on the official DigiEduHack website and be evaluated by international experts.
The winning team has the opportunity to become the global DigiEduHack winner. In addition, the winning team was awarded 2000 GEL from Sector 3, and Prodemos. Also, each member of the winning team received a 1000-GEL voucher from TBC for Youth, and branded ThinkPad X1 ANC headphones from Alta.
We are thrilled to announce that the winning team, Ender, was composed of SDSU Georgia students Nikoloz Meladze-Jaiani and Nikoloz Tbileli. They created "a platform for interactive adaptive learning, aiming at gamifying the educational sector. It allows the teachers/instructors to customize or create quizzes and lessons in a game format using pre-built templates or by using the platform's marketplace or Unity-like engine to create their own custom experience."
After the Hackathon, Nikoloz Tbileli said, "It was a great event that made our team think of the current world situation and how digital learning is done, and how it's affecting K12 students and the whole educational field. It made us realize that the "Zoom university" style of learning is lacking and affecting K12 students in a harmful way because of their lack of interactions….We heard a lot of great ideas and saw some impressive demos during the hackathon and are glad we had the opportunity to interact and hear such great ideas."
ISU and SDSU Georgia also selected their respective favorites, awarding each 1500 GEL as a prize. The SDSU Georgia favorite award, selected by Gotsiridze, went to the team Quick Game, made up of SDSU Georgia student Giorgi Sharmiashvili, BTU student Giorgi Nadiradze, and European School faculty Davit Nozadze. Their project was a quest-based game in which students must answer quizzes to solve quests and receive rewards.
Up next: Global Award finalists announced in Jan. 2021. All the winning solutions are assessed by the DigiEduhack steering group, who chooses 10 to 12 finalist solutions. These 10 to 12 finalist solutions are put up for a public vote on Unite Ideas, a United Nations voting platform.
The 3 solutions that get the most public votes are declared Global Winners, and each team is awarded a prize of 5000€ for further development of their solution.