SDSU Georgia Will Organize a Joint Job Fair with Partner Universities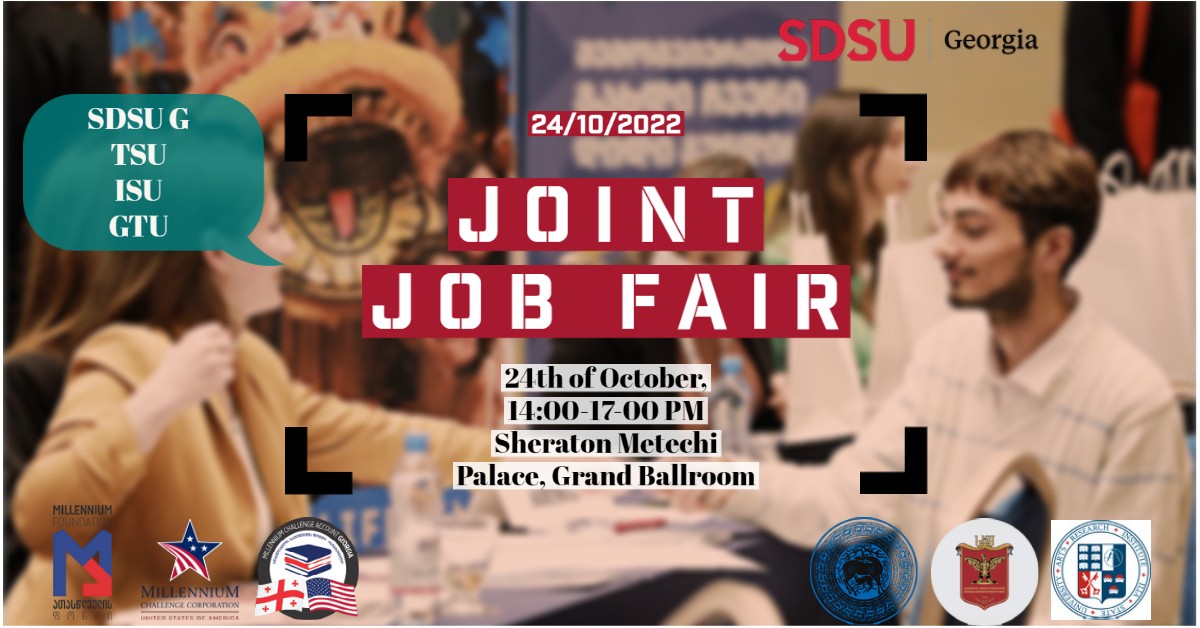 San Diego State University Georgia is pleased to invite Public and Private Companies for the first Joint Job fair with participation of our partner Universities: Tbilisi State University, Ilia State University, and Georgian Technical University. The key purpose of this event is to connect qualified employers with students graduating from internationally accredited programs through internship and job opportunities.
This year companies will be able to meet and recruit SDSU Georgia, TSU, ISU, and GTU undergraduates from ABET programs.
Why choose ABET-accredited program graduates for future employment?
ABET accreditation provides assurance that a college or university program meets the quality standards of the profession for which that program prepares graduates.
ABET accreditation assures the confidence that a collegiate program has met the standards essential to prepare graduates to enter critical STEM fields in the global workforce. Graduates from an ABET-accredited program have a solid educational foundation and can lead the way in innovation, emerging technologies, and in anticipating the welfare and safety needs of the public.
One of the most important benefits of ABET-accredited programs is that graduates can employ their talents internationally.
ABET program undergraduates participating in the Joint Job Fair
ABET program bachelor students from each university:
Electrical Engineering – SDSU G, TSU, ISU, GTU
Computer Engineering - SDSU G, TSU, ISU, GTU
Computer Science - TSU, ISU, GTU
Civil Engineering – SDSU G, ISU, GTU
Chemistry/Biochemistry – SDSU G, TSU, GTU (Biomedical Engineering)
SDSU Georgia Students
San Diego State University Georgia students are equipped with a diverse range of unique skills and qualifications, including:
Top scoring students on NAEC exams (National Exams)
Young entrepreneurs and innovators who have brought various technology projects to life
Winners of local and international Olympiads in math, science, and technology
Students with strong English skills (as all classes are taught in English)
SDSU's General Education curriculum equips students with skills necessary for success in a contemporary job market.
Registration Information
Registration is free! The deadline for registration is October 20th, 2022. As recruiting spaces are limited, please make sure you book your space timely.
All interested companies/organizations are asked to complete a quick online registration by visiting the link: https://forms.gle/zKs1Bk2FPw76C4Uq8
Registered companies/organizations will be provided with:
Recruiting space at the fair, including a table, chairs, and space for a company sign or banner
A company profile will be sent to students and posted on SDSU Georgia Webpage and Facebook
Coffee, tea, and a light meal for up to 2 representatives
Listing in our annual job fair guide
For further information and assistance please contact: [email protected]