#StudentSuccess - Mariam Chikhradze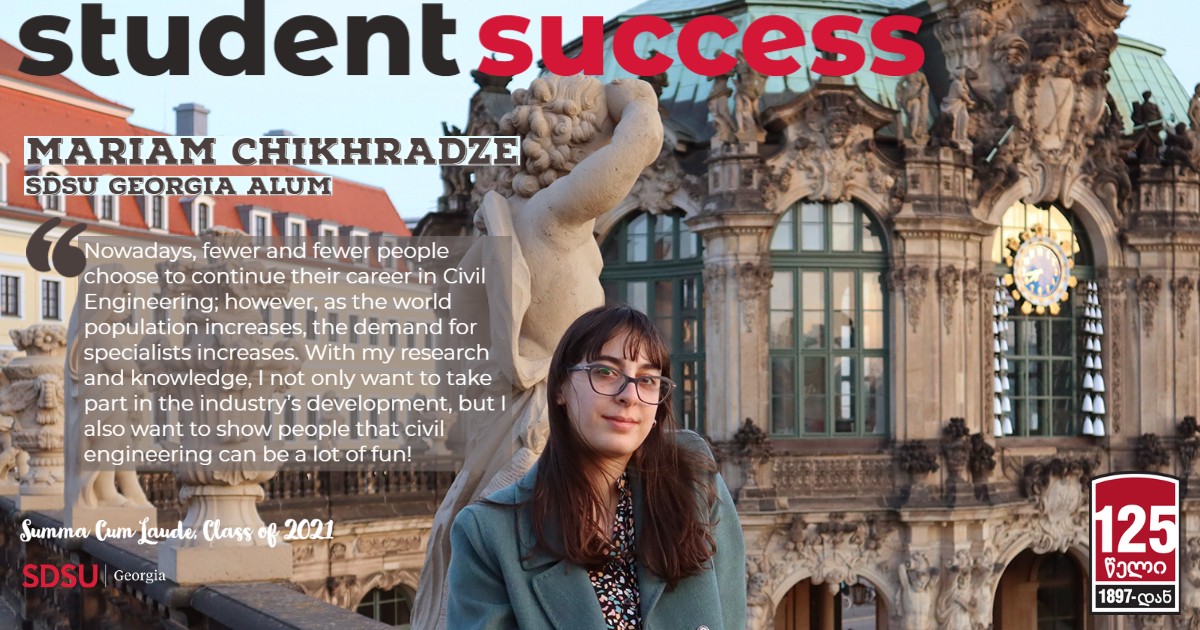 I always had a knack for technical subjects. As a kid I loved solving huge arithmetic problems with countless parentheses, wider than my notebook. It was no surprise to anyone when I continued studying in a Physics-Mathematics high school and majored in STEM. During high school, I loved visiting the construction site where my family's house was being built. I enjoyed asking questions and learning about the construction process, which stimulated me to pursue a career in Civil Engineering.

While studying in a double-degree undergraduate program at SDSU Georgia and GTU, I managed to maintain high academic performance, get the annual scholarships from the Georgian Technical University, and graduate in 2021 as a Summa Cum Laude. Apart from academics, I served as a University Student Ambassador for two years, which helped me meet a lot of new people with great minds. In addition, I was a part of the American Society of Civil Engineers (ASCE) Student Chapter in Georgia as a publicity officer.

During the 3rd year of my studies, I worked part-time as a structural engineer. We focused on implementing BIM-based design in the company. That intensified my interest in Building Information Modeling (BIM) and showed me possibilities of how the construction industry could advance in the future.
For my Senior Project, as a design team leader, I conducted a structural analysis of the elementary school building and supervised my teammates in drafting the model in Autodesk Revit and AutoCAD. Through the capstone project, we compared the two softwares in terms of time efficiency and applicability to other branches of civil engineering. Apart from drafting structural shop drawings from Revit, we also used Revit's auto-generated data for the Bill of Quantity of the whole structure. With the project, we wanted to show how advancing the design phase of construction affects overall project completion time and quality. The capstone project further strengthened my interest in the BIM approach.
After graduating from SDSU, I won the DAAD Scholarship and went to Germany to conduct a master's degree in Advanced Computational and Civil Engineering Structural Studies at the Technical University of Dresden. Through countless research, I realized that in this era of technological advancement, the construction industry seems to be lagging, and I want to contribute to its development. I am currently working on a research that concentrates on a parametric design approach for bridge cross sections. Through my master's thesis and during the early stages of my career, I want to learn more about parametric and BIM design of different structures, namely, bridges and practice in the industry. In my opinion, the BIM-based and parametric design approach is the future of construction industry, as it reduces the time, resources, and cost of construction by eradicating most of the potential errors in the design phase.
Nowadays, fewer and fewer people choose to continue their career path in civil engineering; however, as the world population increases, the demand for specialists increases. With my research and knowledge, I not only want to participate in the industry's development, but I also want to show people that civil engineering can be a lot of fun!