#StudentSuccess - Nino Gvalia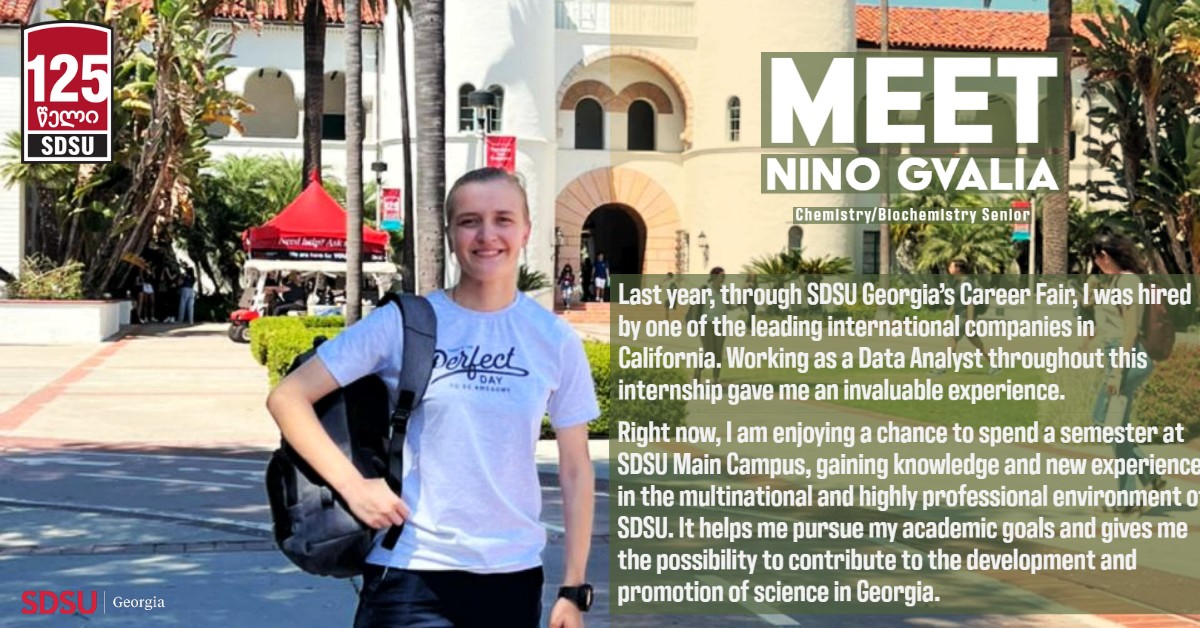 I am Nino Gvalia, a Biochemistry senior at San Diego State University Georgia.
Since childhood, I remember myself as a girl of vitality and inspiration who would never give up. Having a remarkably high GPA and amassing credentials were never my only concerns. This made my life more vivid and memorable by breaking borders and spurring out-of-frame thinking.
Titles do not make leaders. They rather express diligence and merit. So far, I have had the pleasure of being the head of the committee of Scientific Research and Project Development Service at Academician Fridon Todua Student Medical Scientific Society. I served as a Mentor for the "Millennium Innovations Award" supported by Millennium Challenge Corporation, preparing students for hackathons and as a research assistant at CPRG in Greece, Marousi. I also mentored 9-12 graders in the Arduino project "Radiation Measuring Device with LND7121 Geiger Muller Tube Detector and Atmega328P Microcontroller". I am a Student Ambassador at SDSU-Georgia and a volunteer staff member at the American Chamber of Commerce in Georgia.
Studying at SDSU-G allowed me to excel academically and develop strong leadership skills. As a volunteer instructor, I am teaching programming languages and practical approaches to high school students. When COVID-19 started and we were not able to work in laboratories, I used my programming skills to create virtual chemistry labs for all SDSU-G courses.
Last year, through SDSU Georgia's Career Fair, I was hired by one of the leading international companies in California. Working as a Data Analyst throughout this internship gave me an invaluable experience. I also took an opportunity offered by SDSU-Georgia and Universität des Saarland, Germany, to study the history and philosophy of chemistry, chemical meditations, reaction kinetics, and general and inorganic chemistry. This allowed me to be a part of digital educational series carried out by the Department of Bioorganic Chemistry School of Pharmacy.
I am a dreamer and believe in the magical power of hard work that can make our dreams come true. Right now, I am enjoying a chance to spend a semester at SDSU Main Campus, gaining knowledge and new experience in the multinational and highly professional environment of SDSU. It helps me pursue my academic goals and gives me the possibility to contribute to the development and promotion of science in Georgia.
Currently, I am working as a Research Assistant at the Structural Biochemistry Laboratory, Department of Chemistry & Biochemistry. I am studying regulations in the transcription factor NF-κB signal transduction pathway while having the best fall at SDSU's main campus.