#StudentSuccess - Tinatin Vacheishvili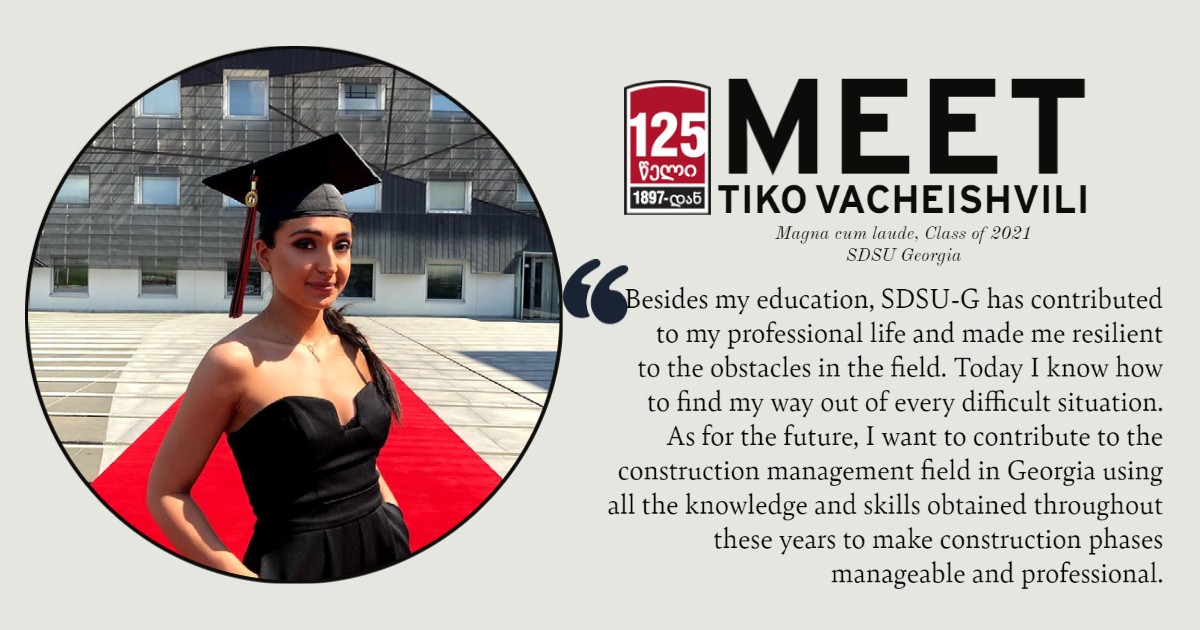 Since childhood I was interested in building and architecture. As a kid I loved creating toys out of random materials. I was fascinated that a single project in construction could be created by more than 100 people, each one being able to say - I have built this! To me that was the way to leave my mark on the world.
In 2017, I was admitted to SDSU's Construction Engineering program in Georgia. Those four years were more difficult than I could imagine. However, I was lucky enough to be surrounded by incredible students who were always willing to help.
During my Junior year at SDSU I started interning for a Construction Company - JSC Transmsheni, where I worked on a Multi-Functional medical center (Lechcombinati). In my Senior year, I was promoted to a Construction Project Manager position for two fifteen-floor Residential Buildings. It was not easy, as I was also working my bachelor's project at SDSU, preparing to enroll in Master's and was in charge of two residential buildings at work.
After graduation, I enrolled in a Master's program "Project and Contract Management in Construction Works" at Politecnico Di Milano (Milan Technical University), one of the most prestigious universities in construction and architecture. Currently, I am working on my master thesis about the Soviet era still overshadowing the construction industry in Georgia. With my master thesis I want to represent how modern project management methodologies are hard to be applied to an industry that still suffers from an influence of the USSR period.
As an SDSU alum, I am an associate member of American Society of Civil Engineers, which has allowed me to participate in the Construction Institute Student Days (2022) Competition and to be selected among incredible minds in the field all over the United States. CI Students days was held in Charleston, North Carolina. The main goal was to challenge teams to develop a written and oral real-world construction project that includes all conditions and phases we face in the industry.
Besides my education, SDSU-G has contributed to my professional life and made me resilient to the obstacles in the field. Today I know how to find my way out of every difficult situation. As for the future, I want to contribute to the construction management field in Georgia using all the knowledge and skills obtained throughout these years to make construction phases manageable and professional.