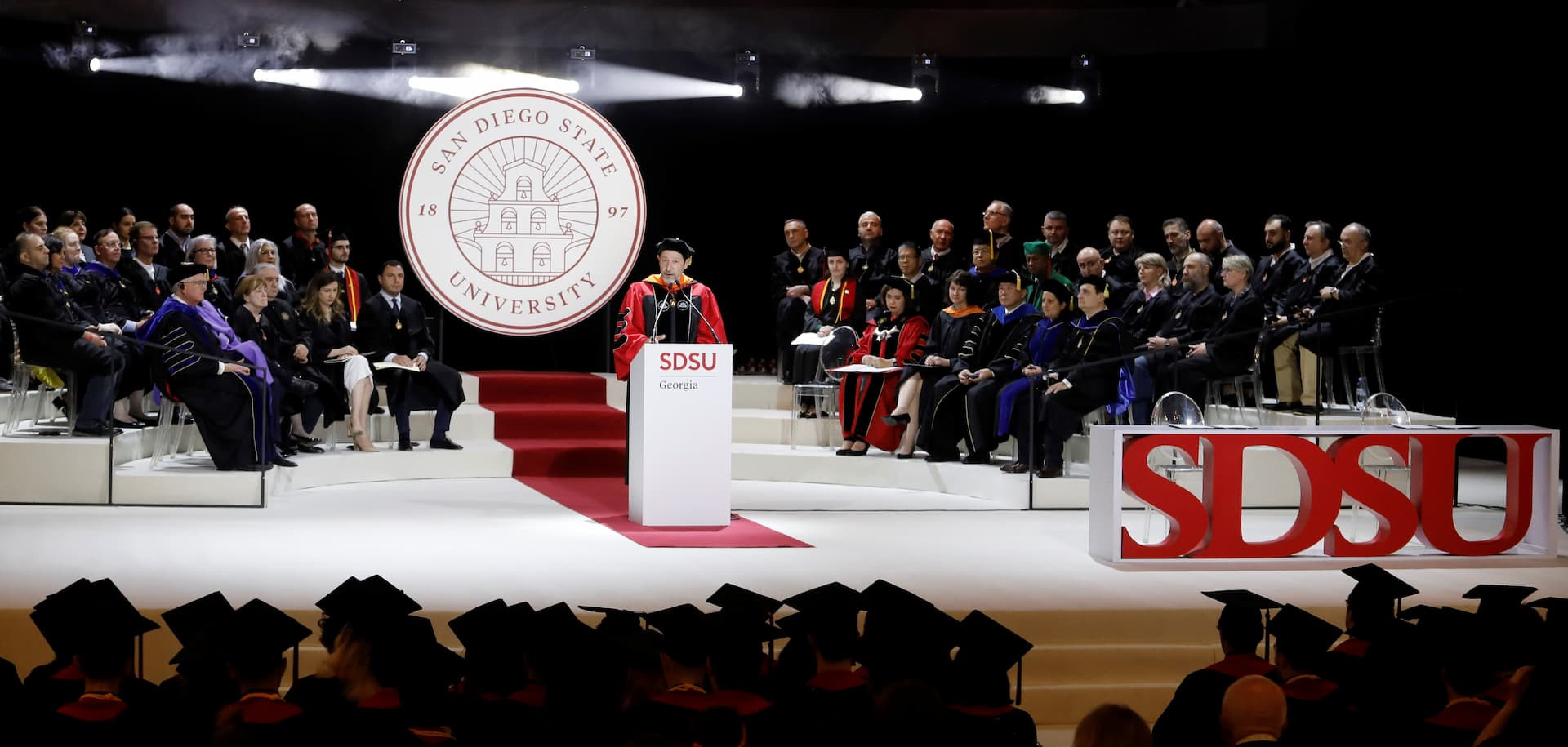 Dean's Welcome

SDSU Georgia is a small but principal part of the SDSU Aztec community, with a 125-year history of providing academic excellence, student success, and groundbreaking research. SDSU has been operating in Georgia since 2015, as a part of the Millennium Challenge Corporation's second compact with the Government of Georgia, with an objective to prepare the next generation of STEM professionals educated to current international standards. With the ardent support of all our friends and partners, we have celebrated 523 highly qualified STEM graduates. These exceptional graduates continue establishing themselves professionally at the top universities and organizations all over the map, determined to share their knowledge and experience with their peers. 66% of the SDSU Georgia graduates remain in Georgia, while 34% are working abroad or are enrolled in graduate studies at the top universities worldwide, including San Diego State University in California, Yale University, Cornell, Stanford, and many others. These gifted professionals are the best manifestation of all our efforts.

During the eight years in Georgia, SDSU has trained more than 100 faculty, renovated the partner university facilities, and brought the innovation of international STEM accreditation to the Georgian public universities. As a capacity building objective, SDSU has brought a novelty of ABET and ACS accreditation to Georgia. All programs transitioned to the Georgian public universities meet SDSU standards for curriculum, faculty training, and accreditation. The notable success of Tbilisi State University in obtaining ABET accreditation for two of its programs has been since reflected in the increased international rankings. Ilia State University is now utilizing the new STEM building constructed through our partnership. All three partner universities are coordinating their efforts for the internationalization goals.

Now as the MCC compact has ended, with the initiative and support of the Ministry of Education and Science of Georgia, SDSU continues admitting new students to three STEM programs: Civil Engineering with Ilia State University, Computer Engineering with Georgian Technical University, and Computer Science with Tbilisi State University. Besides the two diploma programs, SDSU continues working to develop scientific research in partnership with the U.S. Embassy in Georgia and the early childhood education project with I2Q.

I want to thank the President of SDSU, Adela de la Torre, for her trust, the Government of Georgia, and particularly, Minister Amilakhvari, for the initiative of continued partnership, Millennium Challenge Corporation and Millennium Foundation, our donors, public and private partners, SDSU Georgia staff, faculty and students who have helped us strive for the better future of Georgia. Together, we have found unique ways to work and connect with our communities while staying as efficient and productive as ever.

Halil M. Güven

Dean

SDSU Georgia