Academic Programs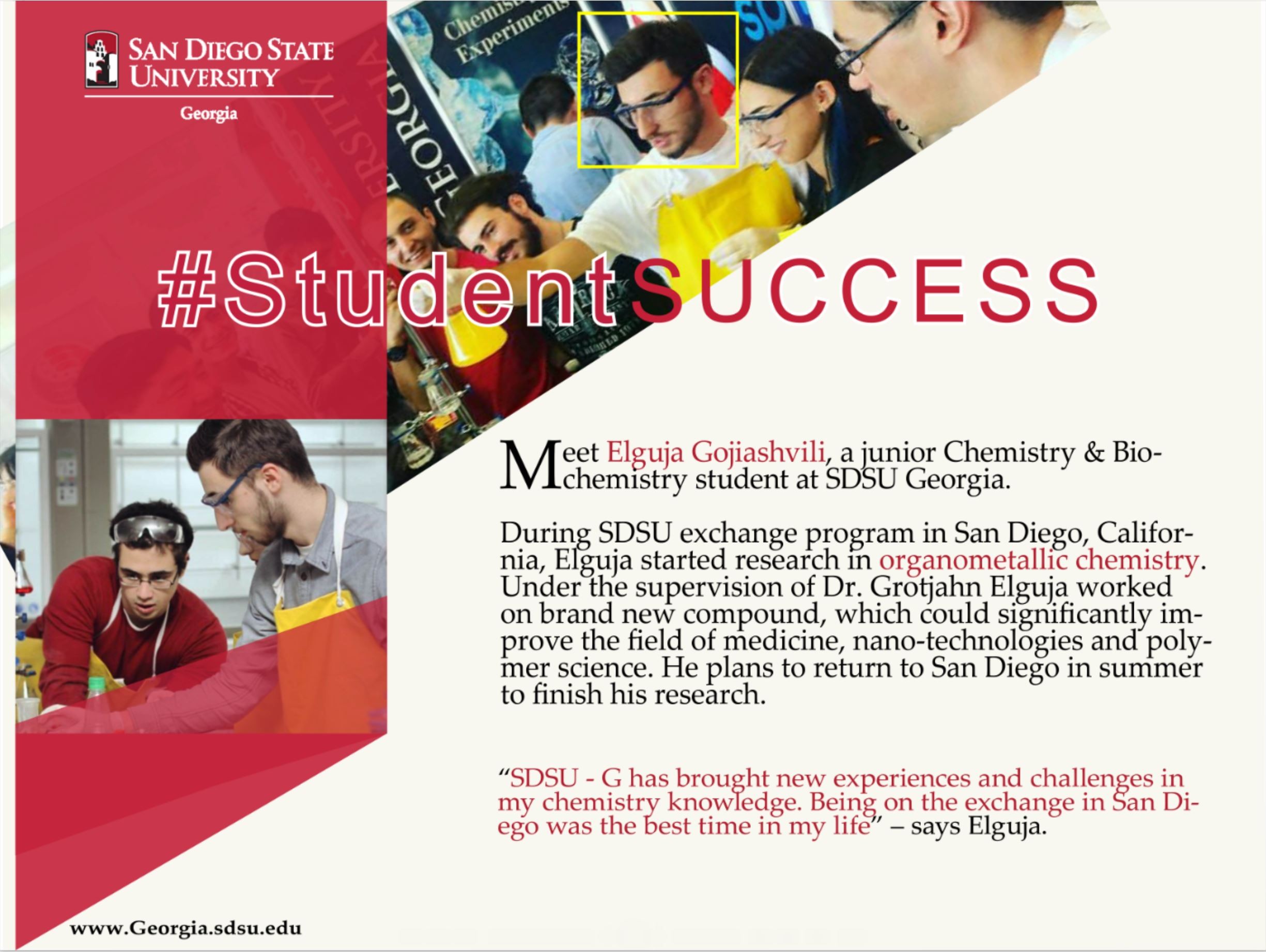 Academic Programs offered in Tbilisi
San Diego State University programs in Georgia prepare students to excel in science and technology fields. The classrooms, engineering and science laboratories, and computer workstations are designed to meet the same criteria and provide the same technologies that are used in San Diego State University in the United States. Our degree programs offer a balance of theory and practice that prepares students for the broadest range of employment opportunities and graduate studies. In their final year, students participate in a course that emphasizes teamwork, oral and written communication, and creative thinking.
All instruction at SDSU-Georgia is in English, and core courses are taught by SDSU faculty from the United States.
SDSU offers the following Bachelor of Science (B.S.) degree programs in Georgia:
Computer Engineering -

Offers courses that teach students to design and build computers and digital systems of all sizes:

Large systems that predict the weather, recreate physical systems and environments (virtual reality), and handle banking and airline reservations,

Tiny computers that are inside automobiles, appliances, CD players, and cellular phones

Personal computers used in offices and homes everywhere.

Computer engineers also design and develop the programs that control these computers.
Electrical Engineering -

Provides core courses in each of the key areas of electrical engineering: machines for processing and communication of information, the generation and distribution of electric power, and the study and application of electromagnetic phenomena. Mastery of engineering design is emphasized through work on open-ended problems with realistic design constraints. The curriculum attempts to achieve a balance between theory and practice that will prepare graduates for both immediate employment and post-graduate study.

Chemistry/Biochemistry –

Addresses the entire subject domain, including analytical, inorganic, organic, physical, and biochemistry with an emphasis in laboratory study and practical application. The SDSU Chemistry curriculum offers students an unusual amount of hands-on laboratory experience. Laboratories provide hours of small class instruction with experienced instructors. Students will learn a wide range of current techniques, use sophisticated instruments, and gain experience through group problem solving.

Civil Engineering -

Because the engineer's work is predominantly intellectual and varied and not of a routine mental or physical character, this SDSU program places emphasis upon the mastery of a strong core of subject matter in the physical sciences, mathematics, and the engineering sciences. Woven through the pattern is a continuing study of the social sciences and humanities, because engineering graduates must expect to find their best expression as leaders, conscious of the social and economic implications of their decisions.
INTERNATIONAL STUDENT CENTER
SDSU Georgia San Diego State University Georgia
5 Kostava Street, 3rd floor Tbilisi, 0108, Georgia
Phone:
+995 32 2 311 611
Email:
For program inquiries inside of Georgia, please contact us at
Georgiainfo@sdsu.edu